How to order your pencil portrait
Step One
First and foremost, submit a photo you love! Make sure it's very clear and the face is at least 1 ½" - 2" inches in size. Please be sure the whites of the eyes are clearly visible. In focus close-ups are best … the larger the better. Photos taken with flash photography tend to lack depth and detail. If you are taking the photo yourself, turn your flash off and let the natural light bounce off the subject's face. If in doubt, please send me some photos and I will let you know which will make the best drawing. All portraits are drawn on natural white, heavy-duty 300gsm, watercolour paper.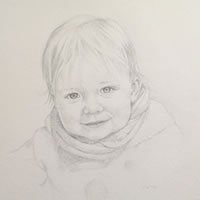 Step Two
Send the photo by email. I recommend a resolution of 400-600 dpi and a file size in excess of 1.5Mb.
Step Three
Contact me by email to discuss details of your desired portrait and organise payment. I require a 25% deposit in the form of a cheque, bank transfer (BACS payment) or via Paypal. Once payment is made and picture is approved, I will give you an estimated completion date. A typical portrait takes me one week depending on complexity and workload. If you require the drawing by a certain date, please let me know.
Step Four
The remaining balance and cost of delivery is due when I email you a final proof of the drawing. Once I have received the balance, I will post the drawing to you (P&P is £5 and sent recorded delivery). If you live locally, final payment for a portrait can be made when the portrait is picked up.